We're Helping Patients Today
After years of preparation, we're helping patients today with artificial intelligence on a very large scale with over 20,000 studies processed on the vRad Imaging Platform daily. Over 10,000 studies pass through our AI models on a typical day to identify critical pathologies for escalation to our radiologists.
But we're just getting started.
AI will soon permeate the practice and business of medical imaging, to the benefit of patients, practitioners, and administrators. In the coming years, we will see AI empower radiologists to rapidly detect ever more subtle, serious and rare abnormalities; conquer mountains of administrative burden; and strengthen healthcare delivery through demonstrated quality improvements, such as faster turnaround times, intelligent prioritization of critical cases, greater reporting accuracy, and compliant billing practices.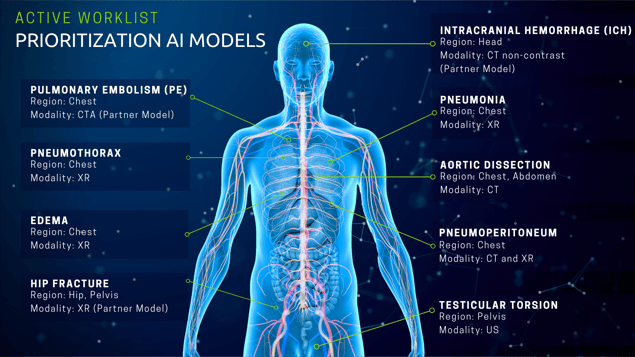 AI Worklist Prioritization
Accelerating care delivery in critical cases
Using trained convolutional neural networks (CNN), proprietary vRad Radiology AI screens thousands of cases daily, accurately recognizing images that exhibit a high likelihood for specific pathologies like intracranial hemorrhage (ICH), pulmonary embolism, pneumoperitoneum, and pneumothorax −immediately moving critical cases to the top of radiologists' worklists.

FREE WEBINAR

AI in Radiology - Beyond Theory

Download the encore webinar of our 2019 RSNA session a for an up-close look at how AI is helping radiologists deliver better care…today.
With AI prioritization, 14 critical cases each day are read an estimated 10 to 15 minutes sooner than if the AI models had not run. 15 patients per month are provided care up to 24 hours sooner when escalated from non-emergent.
From his reading room in Walnut Creek, California, neuroradiologist Joshua Morais, MD opened the next case on his vRad worklist one afternoon in 2019. The non-contrast head CT of an Iowa woman revealed acute intracranial hemorrhage. Dr. Morais urgently reported his diagnosis to the ordering physician, just 2.9 minutes after the CT images had been uploaded.
What Dr. Morais didn't know at the time was that a proprietary vRad AI algorithm had identified the criticality of the woman's case and elevated it to the top of his worklist. This enabled him to quickly deliver his findings — getting the patient to surgery 10 minutes faster with AI than the typical time. Learning of this later, Dr. Morais stated: "For this patient, I have no doubt AI was a critical element for her survival."
Ensuring accuracy and compliance
Using natural language processing (NLP), the vRad Imaging Platform reviews all radiology reports, flagging potential clinical improvements or compliance issues. For example, a radiologist will be alerted in real time, as the report is being created, if the pathology has a specific reporting requirement — such as Fleischner criteria for a lung nodule or a LI-RAD score for a liver lesion.
Powerful Results. By actively checking each report, AI significantly reduces the risk of a delayed result or incomplete record for billing based on a misplaced keystroke, transcription error, omitted merit-based incentive data or individual mistake — a huge advantage for a practice processing nearly 7.5 million studies annually.
Two components are essential to successfully establish, develop and sustain applied AI in radiology: Uncompromised collaboration between radiologists and computer scientists, and access to a constant flow of data that is representative of a highly diverse population. This is the foundation of vRad Radiology AI.
Complementing our in-house team of computer scientists, we've created a partner ecosystem of some of the brightest AI organizations worldwide to collaborate on model development and validation using our diverse dataset of anonymized data.
Our AI models are at work today prioritizing critical cases, improving reporting accuracy and assisting billing compliance. But we're just getting started. AI will permeate the practice and business of medical imaging to empower radiologists, conquer mountains of administrative burden and strengthen health care delivery.
Radiologists. If you're a radiologist wanting the power of AI at your back, talk to one of our knowledgeable recruiters today.
Health care administrators. If you're a health care administrator seeking new advantages for your organization and patient population, let's discuss how you can leverage our AI today.